Andrew Palfrey's suspended sentence for sex-threat texts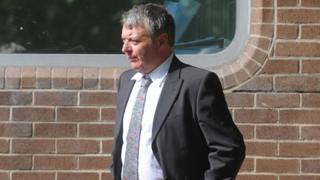 A man sent anonymous texts to his wife's colleague threatening to rape her and force her into prostitution, Merthyr Tydfil Crown Court has heard.
Andrew Palfrey, of Llandrindod Wells, made increasingly "sinister and menacing" threats to the woman who worked in a hospital.
The judge said the texts were "some of the worst that can be imagined".
Palfrey, 50, admitted harassment and was given a suspended six-month sentence.
The court heard he began threatening the woman in April.
The woman told the court: "These message were horrendous, vile and sick. He said he was going to inject me with heroin, rape me, kidnap me and hurt me.
'Awful things'
"They made me suspect everyone around me and made me question my friendships."
Police found a newsagents' CCTV image of Palfrey topping up his mobile and the woman identified him.
She said: "When I discovered it was Andrew I was in shock. I couldn't believe the same man who I'd sat with in our local pub so many times was dreaming up so many awful things to do to me."
Palfrey was ordered to complete 250 hours of unpaid work and attend a thinking skills course.
Judge Eleri Rees said his texts were "sinister and menacing".
She said the life of the woman and those around her "must have been a living hell".
"How much more the shock to discover the person who was doing this she thought was a friend.
"They became more elaborate and were obscene and violent. It is inexplicable why you embarked on this appalling behaviour."
Palfrey told police he had sent the messages as an act of revenge for his wife, claiming she had to "do all the work" because her colleague was lazy and never in work.
The court heard the woman he targeted had been off sick for two days before the texts started.