Welshpool street drinking ban plan backed by police chief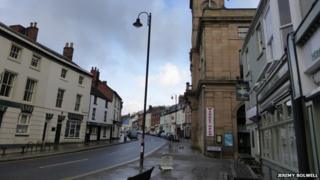 A planned ban on street drinking in a town centre has been backed by the Dyfed-Powys police and crime commissioner.
Welshpool Town Council is behind the bid, which aims to cut down on anti-social behaviour.
It follows a consultation with the community which found 96% of local people behind the move.
Christopher Salmon said he "applauded" the application for a Designated Public Places Order (DPPO).
DPPOs give the police powers to stop people drinking and to confiscate alcohol in public places.
'Ambition'
It would still mean people can drink outside pubs.
But the town council has said local people are unhappy about groups drinking on the streets as they "feel intimidated" and "it is not good for tourism".
The final decision will be taken by Powys council.
The town council received 452 responses to a community consultation earlier this year.
Mr Salmon said: "I applaud the ambition of the council and others to make town centre visitors feel safer. I will follow the progress of the DPPO application with interest."