Aberystwyth gas works set to disrupt town centre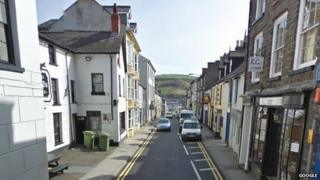 Work to replace gas pipes in the centre of Aberystwyth is set to cause several weeks of disruption in the run up to Christmas, residents have been warned.
Around 220m (721ft) of metal pipes in parts of Bridge Street and Upper Great Darkgate Street are being replaced.
The work begins on Monday with road closures taking effect from Wednesday.
Wales and West Utilities is holding a drop-in event at the Marine Hotel at 16:00 BST on Thursday to explain the reasons for the work.
The company said the work would take 14 weeks to complete but had been arranged so that events such as Armistice Day, the town's food festival and Christmas celebrations would not be disrupted.
Project manager Andrew Dransfield said: "We have tried to plan this scheme so that we can minimise its impact in what is a very difficult area in which to work.
"We have worked closely with the Highways Department of the local authority in planning traffic management as well as discussing our plans with local elected members, to ensure that the voice of local people is taken into consideration in how we tackle the job."