BMX challenge in mid-Wales quarry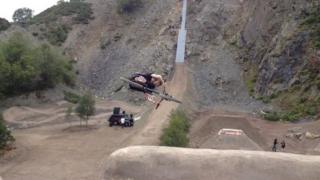 Some of the world's top BMX riders are gathering in mid Wales to test out a track more than twice the height of a double-decker bus.
The group will ride a dirt quarter pipe built into the side of a quarry in Llangynog believed to be one of the biggest in the world.
The site at Revolution Bike Park claims to be able to send BMX riders to a height of 50ft (15m).
The track was designed by leading BMX rider Sebastian Keep.