Mid Wales Opera Carmen gala show marks 25th anniversary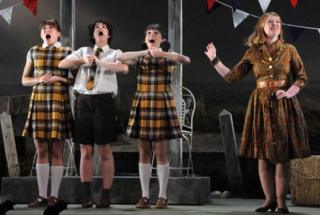 Mid Wales Opera has joined forces with one of Britain's leading directors and comedian Rory Bremner to celebrate its 25th anniversary.
A new production of Bizet's Carmen, directed by Sir Jonathan Miller and translated by Bremner, opens with a gala performance on Wednesday.
The company, based in Caersws, Powys, grew out of a summer school in Meifod.
Artistic director Nicholas Cleobury said: "It's a great accolade to be working with such a great director."
"He's bringing real kudos to what we're doing at Mid Wales Opera."
The production opening at the Hafren, Newtown, features an acclaimed English-language translation of the libretto by Bremner, who has joined the cast for rehearsals. Carmen was originally written in French.
Bremner, better known for his impersonations, studied French and German at university and is a keen translator of opera.
Since its first production in Newtown in 1989, Mid Wales Opera has specialised in performing at smaller venues across Wales and England which rarely host live opera.
"We're doing very well artistically but we need to be ever vigilant on funding," said Mr Cleobury.
"Our remit is to take opera to smaller places far from metropolitan centres that would not otherwise see it.
"We have a big young artists programme which is looking to the future of opera in Wales and beyond, complementing what Welsh National Opera is doing."
A gala performance of Carmen at the Hafren on Wednesday will be followed by further shows on Friday and Saturday before the production goes on tour.