Aberystwyth meeting to hear concerns over NHS changes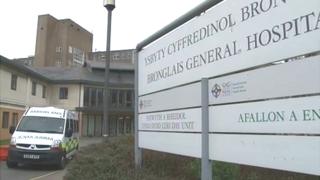 Bronglais Hospital in Aberystwyth is being "downgraded by stealth," claims a councillor, ahead of a meeting to hear local concerns about NHS services.
The town council has invited First Minister Carwyn Jones and Health Minister Mark Drakeford to the public meeting on 12 September.
One councillor, Brenda Haines, said it was "for ordinary people to tell us what their problems are."
Hywel Dda Health Board has said it must reshape its services for Ceredigion.
It is part of wider plans for NHS services across Carmarthenshire and Pembrokeshire.
More than 300 people attended a similar public meeting in Aberystwyth in January.
That meeting passed a motion of no confidence in Hywel Dda Health Board and called for a new body to run local hospitals.
Research
Last December Mr Drakeford commissioned a report on the future of health services in mid Wales.
The independently-led piece of research is expected to be completed by the end of September.
The latest public meeting on 12 September is being held at Penweddig School.
Ms Haines said the meeting will be used collect and pass on the Welsh government the experiences of people who have to travel out of Aberystwyth for hospital services.
She said: "For people in the mid Wales area, Bronglais is their only hospital.
"People are having trouble getting from Aberystwyth to the various other centres that they are being sent, Carmarthen, Llanelli, Morriston, Cardiff and Withybush, etc.
"They [officials] have not said they are going to close Bronglais, but it is is being downgraded by stealth."
A Welsh government spokesperson said: "We can confirm that we have received the invitation and will respond in due course."
The health board has also been asked to comment.