Aberystwyth scientist helps find life 800m under ice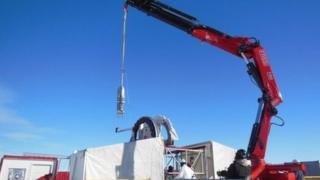 A scientist from Aberystwyth University was part of a team that helped discover tiny signs of life 800m beneath the Antarctic ice sheet.
Dr Andrew Mitchell was with the US Wissard team, which became the first to drill through the glacier to sample the untouched waters of Lake Whillans.
Tests found microbial life which digest rock as their only food source.
The team is hoping to discover if the carbon they release into the water is playing a part in climate change.
The group believes the waters could have been home to the only life on earth during previous ice ages when the world was entirely covered in ice.
They also say the discovery raises the possibility of the existence of life on other planets previously thought to have been uninhabitable.
Dr Mitchell is now analysing the findings at Aberystwyth's extreme experimental environments laboratory.
He said: "This study suggests that significant amounts of carbon and nutrients are probably exported from these sub-glacial lakes into the vast southern ocean that encircles the continent.
"The activities of these microbes are providing rich and valuable food sources."