Cate Le Bon Mas Mas festival in Cardigan cancelled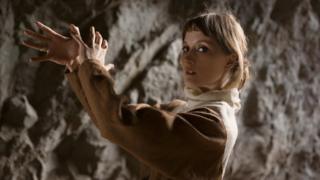 A one-day festival due to be hosted by musician Cate Le Bon in Cardigan next week has been called off.
The River's Edge venue said it had not been able to get an entertainment licence for the Mas Mas event.
Perfume Genius, Euros Childs and Sweet Baboo were among the artists due to appear alongside Le Bon at the festival on 28 August.
Organisers said the event could not be rescheduled and that all tickets would be refunded.
'Great regret'
Le Bon said on Twitter she was "very, very sad" to have to announce the cancellation of the festival.
A statement on her website said: "Due to a failure to obtain the necessary entertainment licence at River's Edge prior to the event taking place, it is with great regret that River's Edge have to announce the cancellation of the Cate Le Bon presents Mas Mas mini-festival due to take place in Cardigan on 28th August.
"Unfortunately the event cannot be rescheduled.
"River's Edge would like to apologise for the inconvenience this causes and apologise to, and thank, all the artists and ticket-buyers, particularly Cate Le Bon herself, whose performance and personal contribution to the programme would have ensured a successful and iconic event."
Le Bon, from Penboyr, Carmarthenshire, is due to begin a UK tour on 9 September.