Attendance falls at Royal Welsh Show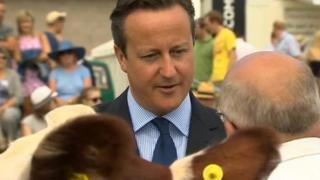 The number of people attending the Royal Welsh Show has fallen following two record-breaking years.
The show near Builth Wells, Powys, attracted 237,694 visitors this year, more than 4,000 down on 2013 and 3,400 less than in 2012.
Organisers say they did not expect to break the record again citing the visit of Prince Charles last year as a boost.
Prime Minister David Cameron made a surprise visit to the annual four-day event on Monday.
This year did see more paying public coming through the gates, record livestock entries and increased number of trade stands.
John T Davies, chair of the Royal Welsh Agricultural Society board of directors said: "Although figures are not always the best way to measure success, in the society's 110-year history we have more members than ever before which is a gauge of people's loyalty and respect and demonstrates their commitment and confidence in the future of the show."
Organisers also said by Tuesday evening more than 30,000 people in 34 countries had viewed live footage online from the main ring and sheering centre.