Knighton's 400ft pink scarf anti-nuclear demonstration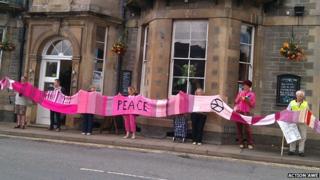 A pink scarf nearly 400ft (120m) long has been unfurled through a Powys town to highlight an anti-nuclear protest.
Knitted by around 80 opponents of nuclear weapons, the scarf was carried from Knighton's clock tower to its cenotaph.
It is part of efforts marking the anniversary of the Nagasaki bombing in Japan in 1945.
The campaigners are also calling on the UK government not to renew the Trident nuclear weapons system.
The scarf is expected to form part of a seven-mile (11 km) scarf knitted by people from all over the world to be used in a demonstration in August on the day of the anniversary.