Father and son rescued from rocks by Cardigan lifeboat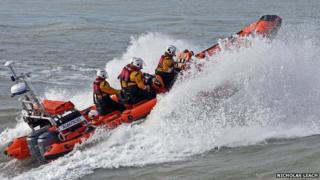 A father and son who injured themselves jumping from rocks into the sea off Aberporth in Ceredigion on Tuesday had to be rescued by lifeboat.
A lifeguard paddled out to Mammoth Rock after hearing calls for help and found the 51-year-old man and his son, 17, covered in cuts.
She called Cardigan lifeboat as the man was reluctant to get back in the sea and the pair were taken ashore by boat.
Both were checked for injuries but did not need further medical treatment.
The pair were from Leicester and were visiting family in the area.
RNLI helmsman Len Walters said: "The wind was blowing a northerly 4-5, which is the worst possible direction for us.
"Conditions really were quite nasty, with wind against tide. It had been blowing all day and the sea really was quite lumpy.
"The RNLI lifeguards who were first on scene did a fantastic job. Definitely a good team effort and I would like to personally thank them for the assistance offered to Cardigan's crew."