Llanidloes manor with historic Kew links is auctioned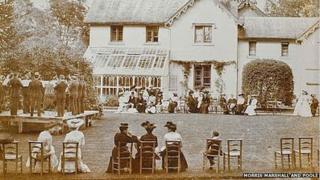 A dilapidated Victorian manor in Powys with links to London's Kew Gardens has gone under the hammer at auction.
Thomas Evans, a former superintendent surgeon of the East India Company in Madras, built Maenol in Llanidloes in about 1832.
Mr Evans, who had a home in London, was involved in bringing rare orchids from India to Kew, a process which was then in its infancy.
He decided to use the money he made in India to buy land in Llanidloes.
Maenol, the Welsh for manor, is a Tudor gothic property with 14 acres (5.5 hectares) of land. It had a guide price of £350,000, but sold for £410,000.
---
East India Company
The East India Company had been given a monopoly of all British trade to Asia by royal grant at its foundation in 1600.
At the start of the 18th Century, the East India Company's presence in India was one of trade outposts.
But by the end of the century, it was militarily dominant over south India and rapidly extending northward
Twenty-four directors, elected annually by the shareholders ran the company's operations from its headquarters in the city of London.
Towards the end of the 17th Century India became the focal point of the company's trade
Cotton cloth woven by Indian weavers was being imported into Britain in huge quantities to supply a worldwide demand for cheap, washable, lightweight fabrics for dresses and furnishings
The company's main settlements, Bombay, Madras and Calcutta were established in the Indian provinces where cotton textiles for export were most readily available
---
The once grand house, its former servants' quarter, summer house, coach house and farm outbuildings, are in need of a substantial revamp, a task its new owner said he was keen to tackle.
Paul Jervis, who is from the town, said: "I've bought it as a family home for generations to come. I'm looking forward to restoring it to its original condition."
Andrew Turner, partner at property and land agents Morris, Marshall and Poole, said there was a great deal of history associated with Maenol.
"Thomas Evans created a Tudor gothic-style manor house and it's believed some of the materials and ideas he used came from India where he had worked," he added.
"We have some historic photographs from the early days of Maenol, including a garden party in the 1800s which portray the lifestyle Evans led and the wealth he had at the time."
Thomas's time in Madras with the British East India Company had involved trying to bring what was then a modern dispensary into a local town in 1800.
A medical board initially rejected his proposal, but the government eventually set one up.
It is understood Evans was born in 1773. He retired to Llanidloes and died in 1845, aged 72.
Maenol remained in the family until the 1950s.