Not-for-profit company could help run Powys leisure centres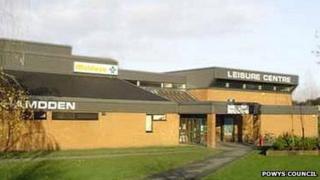 Plans to run leisure centres in Powys in partnership with a not-for-profit company have been backed by councillors.
Powys council has been examining different options for managing its 16 centres as it looks to save £20m during this financial year.
The council had considered handing the centres over to a charitable trust but it now favours a different system.
Its cabinet voted on Tuesday to start work to find a suitable partner.
Councillor Graham Brown, cabinet member for leisure, said: "The county's leisure services are facing huge financial challenges and the need to change the way the service is delivered has been apparent for some time.
Obesity
"We have been looking at a number of alternative management, including the establishment of an arms-length organisation.
"While setting up a company is attractive, the scale of the challenges facing us and the need to deliver savings quickly means that working with an established not-for-profit [organisation] is even more attractive.
"Partnering with an established organisation has the potential to deliver greater short-term savings, reducing the pressure on existing facilities."
A number of other local authorities have been looking at different ways of managing leisure services as they come to terms with budget cuts.
In March, a leading specialist warned that cuts to council leisure services would have a "depressing, alarming and disastrous" impact on the fight against obesity.
Dr Nadim Haboubi said councils in Wales should be spending more on leisure to fight an "obesity crisis".