Ceredigion school pupils' space capsule takes Wales photos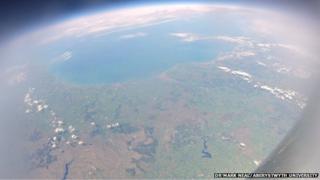 A space mission launched from a Ceredigion school has taken photographs of Wales from more than 15 miles up.
Pupils at Ysgol Gymraeg Aberystwyth built a capsule and launched it on a helium balloon from the playground.
With the help of a robotics expert at Aberystwyth University, it lifted off at 10:45 BST on Thursday.
The onboard camera took images including mid Wales, Cardigan Bay, the Llyn Peninsula and the south west of England before the balloon burst.
The capsule was brought back to Earth by parachute.
After travelling for a total of two hours and 51 minutes, the capsule landed in a field near Llandrindod Wells, Powys.
The GPS sensors showed it had travelled 49km (30 miles) overland, while the highest point recorded during the mission was 26km or 16 miles.
However, Dr Mark Neal, a parent at the school and co-ordinator of the university's Intelligent Robotics Research Group said he believes the capsule went even higher.
He said: "It may well have reached around 32,000 metres as the instruments on board indicate it kept on climbing for some time after the point when that highest reading was taken."