Life-saving defibrillator missing from Machynlleth shop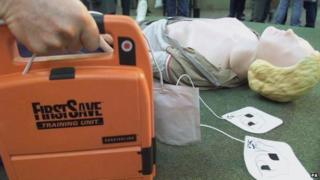 A life-saving piece of medical equipment has disappeared from a convenience store in Machynlleth.
The missing £1,500 defibrillator, which can restart the heart, was given to the Spar, Maengwyn Street.
Machynlleth Town Council clerk Rab Jones said traders want the device found following the death of a man at the market.
The town has a defibrillator at the Bro Dyfi Leisure Centre but it must remain on the premises.
"There was an incident in the market last year. We don't know whether or not it would've helped him but there's a suggestion for a defibrillator to be available," Mr Jones said.