Third breeding osprey pair produce two chicks in Wales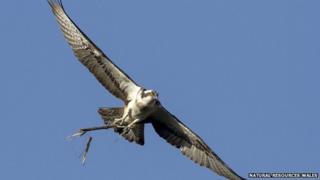 A new pair of breeding ospreys, believed to be only the third in Wales, has produced two chicks at a secret location in Powys.
Natural Resources Wales (NRW) said the chicks hatched last week on a Welsh government woodland estate.
NRW staff and local birdwatchers, who are monitoring the nest, said they had seen the two young popping their heads up to be fed.
An osprey chick hatched at another site, near Machynlleth, last Saturday.
Parents Monty and Glesni were sitting on two eggs in their nest at the Montgomeryshire Wildlife Trust reserve of Cors Dyfi when a chick hatched at the weekend. They also produced two chicks last year.
A pair of ospreys has also bred in the Glaslyn Valley, near Porthmadog, since 2004.
'Delight'
Of the latest breeding pair, Steve Cresswell, NRW forest district manager, said: "We first spotted two birds at the nesting site in mid-April and the first egg was laid two weeks later.
"We're not sure where the birds have come from as they aren't ringed and we believe this is likely to be the pair's first breeding attempt in Wales.
"There were some concerns over the safety of the eggs when two additional young ospreys showed up last month and tried to take over the nest but the parents held their ground and we were delighted when the chicks hatched.
"We have worked hard to ensure the habitat is suitable for all species including ospreys.
"This involves careful management of the environment and water quality and our efforts have been rewarded by the new arrivals. We also erected nesting platforms to make the site more attractive to ospreys."
NRW said the exact location of the nest had not be revealed to protect the chicks and provide them the best chance of survival.