Canon Dr Paul Shackerley appointed Brecon Cathedral dean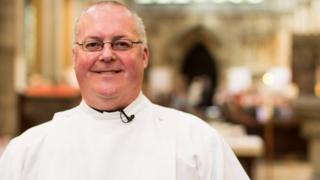 A Yorkshire vicar who is originally from south Wales has been appointed the new dean of Brecon Cathedral.
Canon Dr Paul Shackerley, the vicar of Doncaster Minster, will succeed Geoffrey Marshall who retires this month after five years in the post.
Dr Shackerley was brought up in Tredegar, Blaenau Gwent, but has served all of his ministry in the Church of England.
He will be installed as the cathedral's dean on Saturday, 13 September.
Following service in the Royal Army Medical Corps, Dr Shackerley worked in parishes as a church army officer for eight years.
Brecon jazz
He was ordained in 1993 and served in parishes in London and Chelmsford.
In 2002 he was appointed canon and vice-dean of Sheffield Cathedral, a post which he left in 2010 to take up his present appointment.
Dr Shackerley said: "Pray for me as I prepare to take up my new responsibilities as the dean, that I will be a faithful ambassador for the gospel, the cathedral and the diocese."
He said one of the attractions of Brecon was its jazz festival.
"I am looking forward to coming home to Wales after nearly 40 years," he added.
"I enjoy learning jazz on my baby grand piano, which I bought four years ago. Doncaster has a great jazz culture. So, I will enjoy Brecon for its jazz festival too."