Aberaeron pool repairs on hold over bat colony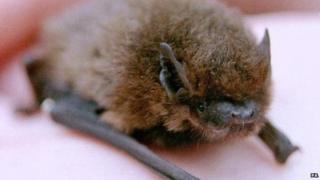 A project to repair a swimming pool's leaking roof is on hold after a colony of bats was discovered there.
Aberaeron pool in Ceredigion has been offered a £64,000 grant on condition the repairs are completed by the middle of July.
Bats are a protected species and a licence is needed for the work to proceed but there have been delays in issuing it, claim pool staff.
Natural Resources Wales said it would be issued before the end of the week.
Aberaeron pool, which is run by a charitable trust, is thought to be home to around 45 pipistrelle bats.
Manager Martine Branford said the delays in issuing the licence were putting the roof project in jeopardy, although the pool is still open.
"It all started a year ago when we were successful in applying for a Ceredigion Social Enterprise Growth Fund grant which we needed to do the roof," said Ms Branford.
"Then we found a couple of bats in the pool hall and we got in touch with NRW to see how to deal with them.
"A local bat expert told us we'd need a bat licence from NRW and since then the whole thing has been an absolute nightmare."
'Illegal'
Ms Branford said NRW finally issued a licence two weeks ago but withdrew it two days later.
"The bats are not in the roof or pool area but were seen leaving a small hole in a part of an outside wall," she added.
Carys Roberts, from NRW, said: "The licences we issue enable important work like these repairs to happen and without the licence being in place this work would be illegal.
"Unfortunately, there have been changes to the plans we received which meant we had to revoke the licence to make sure it was legally sound.
"We will be re-issuing this licence before the end of the week so this work can go ahead as quickly as possible."