Llandrindod Wells new clock and wi-fi regeneration plan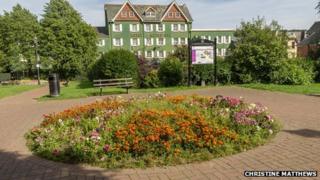 Llandrindod Wells aims to become one of Wales' first wiki towns in a regeneration plan which includes a wi-fi service and a new clock.
The project will use £50,000 given to Powys council in compensation after a supermarket was built in the town in 2010.
It includes featuring all notable information about the spa town on online encyclopaedia, Wikipedia.
The council aims to set up the projects by the end of the summer.
Local people were asked to put forward project ideas to the town council during a "meet your councillor" session last December.
'Exciting development'
These were then forwarded to the local authority and the town's chamber of trade.
Possible schemes also include erecting interactive signs in the town.
Mayor Elaine Worgan said: "It is good to see the county council has taken on a number of ideas that were put forward.
"Setting up wi-fi in the town centre will allow people to access the web in the town through a Llandrindod Wells gateway.
"The idea of setting up a wiki town is also a very exciting development."
Monmouth has already been set up as one of the world's first wiki towns.
The project aims to cover every notable place, person, artefact, animal and plant in the town in as many languages as possible on the website.
The Llandrindod Wells programme will also include putting up a new town clock in the town centre.