Disabled man's train refusal 'misunderstanding'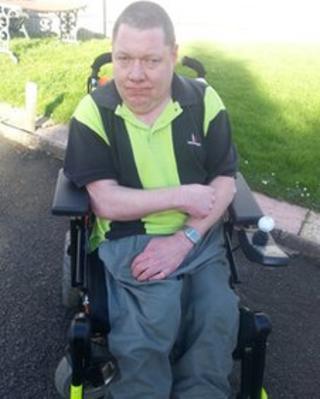 A train company claims a "misunderstanding" led to a disabled man not being allowed to board a crowded carriage.
Colin Williams, 41, from Welshpool, said he felt 'humiliated' after a guard refused to let him on a train to Shrewsbury saying it was full.
Arriva Trains Wales has offered Mr Williams £50 in travel vouchers as compensation.
Mr Williams said he is seeking legal advice.
Mr Williams, who has cerebral palsy and uses a wheelchair, was travelling alone to Shrewsbury when he was left at Welshpool railway station on Saturday 5 April.
He said several other passengers were allowed to board the train while the guard did not lower the ramp for his wheelchair.
'Alternative transport'
Lynne Milligan, Arriva Trains Wales' customer services director has written to Mr Williams about the company's seven-week investigation, which included analysis of CCTV footage.
The letter said that Arriva Trains was "committed to providing alternative means of transport according to the specific needs for the passenger, where appropriate".
It added that the conductor "gained the impression that you were happy to then wait for the next train".
"The conductor has stated the option of arranging for a taxi to transport you to Shrewsbury was not offered as he genuinely believed that your preference was to wait for the next available service," the letter said.
"The CCTV images also show you leaving the platform prior to the conductor initiating the door closure procedure and the train departing the station."
Mr Williams refutes Arriva Trains Wales' claim that he was happy to wait for the next train.
'Legal advice'
He said: "I told the guard and other passengers waiting for the train I wasn't happy to be left there.
"I don't understand how the guard could have that impression, especially because other passengers were trying to get me on the train.
"It's just not right for somebody to be left in that situation.
"At least they admit that I should have been offered alternative transport.
"It was a humiliating experience and I felt discriminated against because of my condition."
Arriva Trains Wales said Mr Williams' concerns had also been "addressed internally" by its conductor management team.