Council cash cuts hit Tregaron and New Quay bowls clubs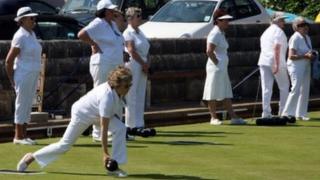 The future of two Ceredigion bowls clubs are under threat after a council decision to pull the plug on £20,000 of funding to maintain greens.
New Quay and Tregaron bowls clubs will now have to find up to £10,000 each a year to keep their facilities up to scratch.
The move comes after Ceredigion council decided to save £146,000 by reducing its grounds maintenance service.
It is part of the council's aim to save £9.6m this year.
The council said it was "trying to assist in every way possible" to ensure the clubs' survival.
Peter Spears, honorary treasurer of New Quay bowls club, which has 50 members, said the council's decision had thrown the club's future into doubt.
'Hugely expensive'
"We are celebrating our 90th anniversary this year but it isn't as joyous an occasion as we had hoped.
"Cutting and maintaining a bowling green professionally is hugely expensive and something we could not possible afford."
Mr Spears added that the club has made an appeal to find a professional green keeper to advise the club on how to maintain its facilities once the council stops its service in September.
"We are keen to learn and we realise that any mistakes could put the green out of action for at least a season," he said.
Vernon Jones, secretary of Tregaron Bowls Club, which has about 100 members, said it had been a "shock" when the club was told the council would stop maintaining the green.
In February Ceredigion council also decided to terminate the annual maintenance of Penparcau Football Club and axe cash subsidies to Llandysul Sports Society.
A Ceredigion council spokesman said: "We are currently in discussions with both bowling clubs on the issue of transferring the maintenance liabilities from the county council to the clubs themselves.
"The council is trying to assist in every way possible to bring about a smooth transition which will allow the clubs to continue to function."