Hay Festival welcomes Dench, Fisher and Fry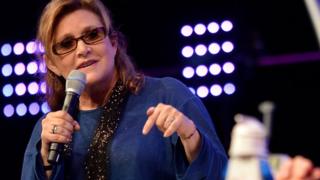 Star Wars actor Carrie Fisher, Oscar winner Dame Judi Dench and comedian Stephen Fry are among the headliners at this year's Hay Festival.
The event, which starts on Thursday, will be broadcast on the BBC's television, radio and online networks.
Several radio and television shows will be live from the festival, with a global audience on BBC World News.
The 27th festival runs until 1 June in the small Powys border town of Hay-on-Wye.
This year's link up with the BBC is the start of a three-year partnership between the festival and the broadcaster, after Sky Arts's coverage ended.
A full programme of events will be broadcast over BBC Radios 2, 3, 4, 6 Music as well as BBC Radio Wales and Radio Cymru.
The full line-up at this year's festival includes literary heavyweights such as Ian McEwan, Toni Morrison, Siri Hustvedt, Lorrie Moore and Robert Harris.
The world of science is represented by figures such as Richard Dawkins, Marcus Du Sautoy and geneticist Steve Jones.
Former Bank of England governor Mervyn King, now Baron King of Lothbury, will join a panel including Lord Justice Sir Brian Leveson and Baroness (Helena) Kennedy QC examining Britain's institutions and history.
Speaking on BBC Radio Wales, festival director Peter Florence said: "We've been incredibly lucky. It's a really exciting mix of Hollywood and Nobel Prize-winning scientists and really thrilling writers from all around the world.
"I'm really lucky to be interviewing some of my absolute heroes like Stephen Fry, we're talking about Shakespeare on Saturday. Rhidian Brook, brilliant, brilliant Welsh novelist, who has written this fantastic book Aftermath, which we're talking about on Monday.
"The biggest thrill actually is seeing the people coming back. It's seeing families and friends turning up, getting together, gathering together and having a really great party."
The World War One and Dylan Thomas centenaries will also be reflected.
Dylan Thomas's centenary will be marked by talks from poet Owen Sheers, screenwriter Andrew Davies and actor Tom Hollander on their film about Thomas's time in New York, and a visit by the replica of his writing shed in Laugharne which has been on tour.
Founded in 1987, the festival has attracted some of the world's most famous people including Sir Paul McCartney and former US President Bill Clinton, who famously described the 10-day event as "the Woodstock of the mind".
Carrie Fisher will be one of Wynne Evans's guests on BBC Radio Wales when he broadcasts from the Hay Festival on Friday between 13:00 and 16:00 BST.