Towyn Evans decides against Ceredigion council chairman role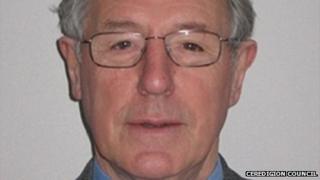 A councillor who fell ill a week before being appointed the new chairman of Ceredigion council has decided not to take up the post.
Towyn Evans was due to be officially appointed chair of Ceredigion council at its annual meeting earlier this month.
But he has decided to concentrate on his work as a councillor to ensure his complete recovery.
A new chairman is expected to be appointed on Wednesday.
Mr Evans, who represents the Llandyfyriog ward near Newcastle Emlyn, was due to replace Cardigan councillor, John Adams-Lewis, as chairman.
Mr Evans said: "I was greatly honoured to be able to look forward to becoming council chairman but the administration of the county must go on."
The chairmanship will be discussed at the council's Annual General Meeting.