Jewish Aberystwyth holiday block remains over candles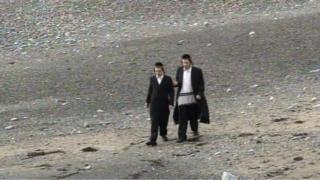 A group of Orthodox Jews say they are "very upset" with the continued block on using university housing in Aberystwyth for their annual holidays.
The community has rented about 120 houses at an Aberystwyth University-owned student village for 20 years.
But a ban on lighting candles as part of religious ceremonies prevented last year's holiday - and the ban remains in place despite talks.
The university said issues had still not been resolved.
It also claims much of the Pentre Jane Morgan village will not be available to visitors this summer, to enable completion of a new 1,000-bed student accommodation at an adjacent site.
Holiday organisers said they were "outraged" by the decision.
'Minor incident'
Myer Rothfeld is a senior member of the community which has visited the seaside town for two weeks every July or August since the early 1990s.
He said university officials had "not moved one inch", and still hoped the university would "change their mind and allow these families to have a holiday".
"We are outraged because lighting candles every Friday night for about two hours is part of our religion," he added.
"The university has picked up on a very minor incident when a counter was singed by a candle two years ago.
"We have tried to reach a compromise with the university by suggesting we use candle boxes but they have rejected that idea.
"Fire officers have told us that nobody in their right minds would make an issue of lighting a naked flame under supervision."
'Essential work'
Mr Rothfeld said families would have to find alternative accommodation in the area if they and the university did not reach a settlement.
An Aberystwyth University spokesman said the use of candles or naked flames in all university residences is banned, but the university is keen to continue to work with representatives of the Jewish community to seek a solution.
"Additionally, for summer 2014 essential work is required to take place at Pentre Jane Morgan to enable completion of the adjacent new 1,000-bed student accommodation at Fferm Penglais," said the spokesman.
"Therefore more than 75% of Pentre Jane Morgan will not be available to visitors or conference groups this summer."