Powys council boss exonerated by audit investigation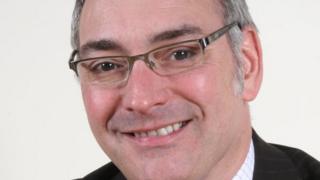 A council boss has been cleared of intervening in a job evaluation process that could have benefitted his wife financially.
Senior Powys council officers turned whistleblowers in making the allegation to the Wales Audit Office (WAO).
A WAO report found there was no evidence of chief executive, Jeremy Patterson, acting improperly in an evaluation that affected his wife.
But the report criticised the council for its record keeping.
It was also taken to task for not following best practice relating to awarding contracts to a consultancy firm employed to support its modernisation programme.
The council aims to plug a £40m budget gap over the next three years.
'No evidence'
The report said a number of the council's senior officers contacted the WAO on a number of issues in December 2012.
The investigation that followed included obtaining internal council e-mails without informing council officers in advance.
Concerns included the alleged "improper involvement" of Mr Patterson in job evaluations that affected the council's democratic services officers, which was a role held by his wife, Liz Patterson.
The report said that "the inference being his involvement was to ensure his wife would either benefit financially or not suffer any pay detriment as a result of a lower pay grading".
It added that there was no evidence of "improper involvement of the chief executive in the job evaluation process but there was a lack of documentation supporting some decisions."
The council was also told by the WAO it had scope to "significantly improve" its own whistle-blowing arrangements.
Action plan
Investigators added they could "understand why officers raised their concerns" and that "some key decisions were not documented" with instances of "key documents or supporting information not being found or not existing."
Aled Davies, chair of the council's audit committee, said: "To ensure the council remains open and transparent when conducting its business the committee decided to make this Wales Audit Office report publically available.
"The committee accepted the findings of the report and officers have started to draw up an action plan to address the points raised in the report.
"I have asked that the completed action plan is presented at our July meeting."