New Quay council anger over Tregaron library funding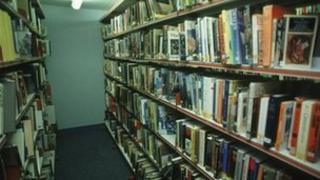 Concerns have been raised over the decision by Ceredigion council to stop funding one library, while continuing to keep another open.
The library in New Quay will be taken over by the town council next month and run by volunteers.
Meanwhile the county council will continue to fund a reduced service at Tregaron library.
Both were to be axed under Ceredigion council's drive to tackle a budget deficit of £20m over three years.
The libraries were due to be replaced by a mobile library before a last minute deal was brokered to keep them open.
Ceredigion council said it had agreed to a request by New Quay Town Council for it to run the library by using volunteers.
New Quay town councillor, Julian Evans, said: "Our town council will have to find up to £2,500 to keep the library open this year.
"But we want to know why Tregaron library is still being funded by the county council and which department is funding it."
'Reduced service'
In April Ceredigion council officers allowed a librarian to open Tregaron library for three weekly two-and-a-half hour sessions a week.
New Quay library had been saved from closure a month earlier after a 600-signature petition opposing the library's closure resulted in 30 volunteers coming forward to help run the facility, which is open for 10 hours over four days of the week.
About a dozen of those will now be trained by council staff to run the facility until at least next April.
Mr Evans said: "I am also concerned that because New Quay library will be run by volunteers this could open the door for the council to ask other communities to find volunteers to run their libraries in a move to save costs."
A Ceredigion council spokesman said: "New Quay Town Council has requested to run the library using volunteers and the council has agreed to the request.
"We will provide all lending material at no cost, but there will be a charge for some services such as internet connection, licensing cost for ICT system and staffing support, at a total cost of £1280 per annum.
"The future of Tregaron library is still under discussion as it is an integral part of the school development, but the service has been reduced to three sessions a week."