Rare plant wall charts found at Aberystwth University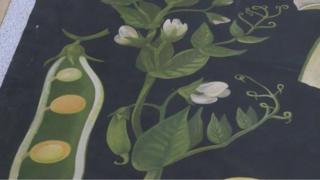 More than 100 Victorian hand-illustrated wall charts of plants found by accident in the cellars of Aberystwyth University are to go on display.
Porters discovered the drawings while clearing up a minor flooding incident.
Academics say the charts, some dating back to 1850, give an insight into how science teaching has changed.
They would have been used to teach biology and botany to students in the university's early years.
The hand-drawn charts show detailed images of a variety of plants and processes such as pollination.
They have been described as a rare find with each poster worth about £200.
John Warren, Director of Learning and Teaching at the Institute of Biological, Environmental and Rural Sciences (Ibers) building said: "The intricate nature of these drawings enabled the lecturers of the 1800s to engage their students in a very different way to how we teach them now.
"These were in effect the PowerPoint of their day.
"We are delighted to have access to this work - their scientific content and significance outweighs any financial consideration."
A selection of the drawings will be displayed at the university campus on Saturday 17 May.