Judge's Lodging in Presteigne scoops 'hidden gem' award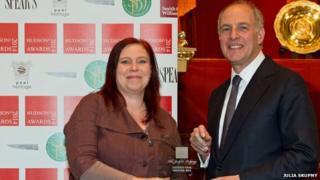 A small museum marking a town's historic links with the legal profession has won an award celebrating top UK heritage attractions.
The Judge's Lodging in Presteigne was named best hidden gem in the Hudson's Heritage Awards.
Other award winners included Derbyshire's Chatsworth House and Blenheim Palace in Oxfordshire.
Presteigne was the legal seat of the old county of Radnorshire for more than 400 years.
Established in 2011, the annual awards are independently judged and open to historic houses, gardens, museums and heritage sites.
Judge's Lodging curator Gaby Rivers picked up the award at a reception in London from television celebrity Loyd Grossman.
The award citation read: "The hidden gem award is for a heritage attraction that just hasn't been noticed, like a small rural museum with big ideas.
"This Victorian courthouse in a tiny Welsh border town recalls its grander past as the county town of Radnorshire.
"Despite the austere courtroom and cells, visitors to this place are immediately immersed into the life of the 19th Century judges and the household who lived here. Everything is touchable and the house is entirely lit by gas and oil lamps.
The citation went on:"What most impressed the judges is that this small charitable enterprise is independently attracting visitors into the area and the town, boosting the local economy and bringing its past back to life."
Judges said the attraction was one of their favourite places in Britain.
"Staff at the museum are so proud of their building and what it has achieved so far this year, especially as this award follows so soon after the Prince of Wales' visit at the end of January," said Ms Rivers.
Following his visit, Prince Charles wrote thanking the museum, describing it as a "truly inspirational place".