Ceredigion council: Towyn Evans illness delays appointment as chair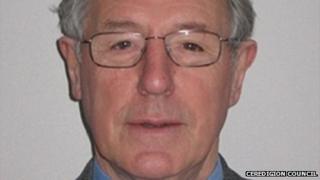 A meeting to appoint a new council chairman has been postponed after a councillor fell ill.
Towyn Evans was due to be officially appointed chair of Ceredigion council at its annual meeting on Friday.
The authority said Mr Evans, who represents the Llandyfriog ward near Newcastle Emlyn, was "on the mend".
It said the annual meeting would be postponed until Mr Evans, who is due to replace John Adams-Lewis as chairman, was better.
"It is pleasing to report that councillor Evans is on the mend and the council wishes him a full and speedy recovery," said a council spokesperson.