Llanelwedd Royal Welsh Show car park charges introduced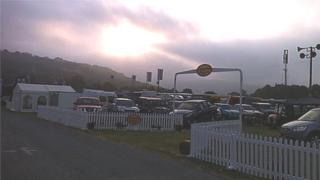 The Royal Welsh Show will start charging some motorists for parking their cars for the first time at this year's event.
Show organisers have decided to charge £20 per day at the 500-space car park next to the showground.
Disabled people will have to pay £5 to use the facility.
But a disability charity said the charges could exclude disabled people from attending the show which runs from 21 to 24 July.
The move comes as the Royal Welsh Agricultural Society (RWAS) tries to recoup some of the £419,000 cost of providing free parking at the four-day event which attracts about 240,000 people each year.
The event's six satellite car parks and shuttle bus system will still be provided free of charge for the 11,500 or so cars that will descend on Llanelwedd near Builth Wells each day.
'Review'
Steve Hughson, RWAS chief executive, said the show was one of the last major agricultural shows in the UK to provide free parking for people attending its events.
He added: "This year the society has identified a car park right next to the showground that can be offered as premium parking for those willing to pay.
"The daily fee is £20, however in recognition of the need to support members of the disabled community we have offered a 75% discount and a charge of £5 per day.
"In addition we offer a mini bus service from this car park into the showground, equipped to deal with visitors with disability."
Mr Hughson said 800 people had so far taken up the offer of paying £5 for the disabled parking with "only a very small number of complaints received".
He added: "This new facility is constantly under review as we are sensitive to the needs of all our visitors.
"We are considering offering this for free for those with specialist needs in receipt of higher disability allowance, who, for that reason would not be able to use our free service within the satellite car parks."
Deborah Gerrard, chief executive of Disability Powys, who provide advice and support to disabled people, said: "Disabled individuals face a lot of barriers in society so imposing this charge could exclude them even further.
"Charing disabled people £5 could make people think twice about visiting this year's show."