Wales victory in Arklow to Aberystwyth 100-mile Celtic Challenge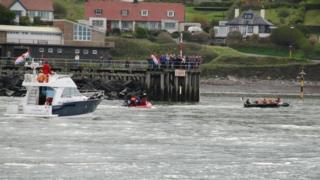 Rowers from Gwynedd have claimed victory in a punishing 100-mile race across the Irish Sea.
Aberdyfi Men's team completed the Celtic Challenge from Arklow, Ireland, to Aberystwyth in Ceredigion in 16 hours and 29 minutes.
They rowed through the night in good conditions, beating 21 other teams from across the UK, to win the race.
The final boat, an Irish team, crossed the line in 25 hours and nine minutes, race organiser David Jenkins said.
"They're all absolutely shattered," he said.
"The conditions were good and a lot of teams have done it before. They practice during the night and everything has got to work like clockwork and there can be no mistakes."
Thirteen Welsh teams had joined Irish and English crews for the race, which takes place every two years.
Each boat carries four rowers and one coxswain, and the rest of the 12 crew members travel on the support boat until it is time to swap.
The first Celtic row across the Irish Sea took place in 1988 and took 22 hours to complete.
In recent years some teams have romped home in under 15 hours.