Complaints of Veronica Teal's nursing home abuse 'upheld'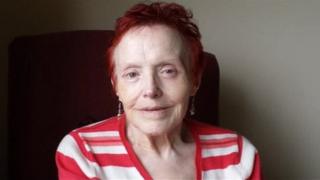 Complaints by the family of an elderly woman who was verbally abused at a care home have been upheld by social services, her daughter said.
The abuse was revealed in secret camera footage from Veronica Teal's room at the Bethshan Nursing Home in Newtown, Powys.
The family say their complaints about her care were upheld and an inquiry found "exceptionally poor practice".
But they say they are still waiting for an apology.
The 73-year-old's family installed a camera in her room after becoming concerned about the care she was receiving shortly after she moved into the home last November.
They were horrified to discover it showed a carer challenging their mother on why she was not eating, calling her "selfish" and asking her if she wanted to die.
It also showed her catheter bag was not emptied for 26 hours, leaving her in significant pain.
The trustees of Bethshan Nursing Home said they deeply regretted the verbal abuse and the member of staff involved had been disciplined and was undergoing further training.
The family reported the matter to social services, which launched a protection of vulnerable adults investigation.
But her daughter Sam Teal said she was "furious" and "deeply disappointed" with the social services response to her mother's case.
Although she said the family's complaints were upheld, Ms Teal said her mother was upset that they still do not have any real answers.
She added that although the trustees of the home accepted the verbal abuse took place, they had never said sorry.
The Reverend Alun Hewitt, chairman of the Bethshan Nursing Home trustees, told BBC Wales he would write to the family to offer their apologies.
On Thursday Tina Donnelly, director of the Royal College of Nursing in Wales, criticised Mrs Teal's treatment and said she would ask the Care Council for Wales to investigate.
Anyone with care concerns can contact the Care and Social Services Inspectorate Wales helpline on 0300 7900 126.