Arklow to Aberystwyth 100-mile Celtic Challenge set for finish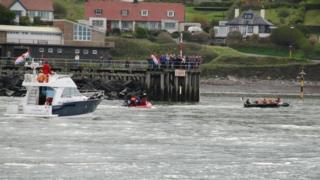 Rowers taking part in a gruelling 100-mile race across the Irish Sea are expected to finish in Ceredigion in the next few hours.
More than 20 teams in the Celtic Challenge crossed the start line in Arklow in Ireland on Friday.
After rowing through the night they are expected to cross the finish in Aberystwyth on Saturday.
Thirteen Welsh teams have joined Irish and English crews for the race, held every two years.
Each boat carries four rowers and one coxswain, and the rest of the 12 crew members travel on the support boat until it is time to swap.
The race had originally been due to start on Saturday, but a weather forecast for strong winds brought it forward.
'Endurance test'
Boats used include traditional fixed seat Celtic longboats and wooden Irish skiffs.
"How often teams swap rowers and how people are utilised are all part of the tactics of the race," said race organiser David Jenkins.
"Knowing your team members and their limits makes or breaks the race, while stamina and determination are key."
The first Celtic row across the Irish Sea took place in 1988 and took 22 hours to complete.
In recent years, some teams have romped home in under 15 hours.
"While the race may be an extreme test of endurance, the rewards once over are sweet, with festivities for rowers and the many spectators in Aberystwyth lasting well into the bank holiday night," said Mr Jenkins.