Actor Stephen Fry made new Hay Festival president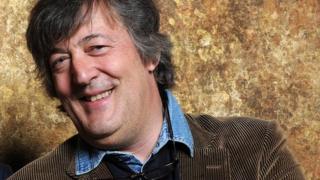 Actor Stephen Fry has been named as president of the Hay Literary Festival, it has been announced.
Organisers have said the writer, comedian and presenter has "lit up" Hay over the last 20 years.
After hearing the news, Fry said he first thought director Peter Florence must be joking.
The QI chair succeeds Eric Hobsbawm and Tom Bingham in the role for a three-year tenure.
"When Peter Florence asked me to become president of the Hay Festival my first thought was that he must be joking or on psychotropic medication. This is the honour of honours," said Fry.
"Hay-on-Wye is way on high. The Hay-on-Wye fortnight holds a very special place in the book-lover's calendar. Ask any author or reader. This is the one we wrestle our diary into submission for until it surrenders and allows us to attend."
He added: "To say that I am proud to be president is criminally to understate."
Mr Florence paid tribute to Fry, saying he is "our man".
He added: "He embodies the pleasures of conversation, he has an insatiable curiosity about the world, and he is committed to the cardinal virtues of fairness and kindness."
The festival runs from 22 May to 1 June and will include big names such as Star Wars actress and author Carrie Fisher.