Aberystwyth Ceredigion Museum development green light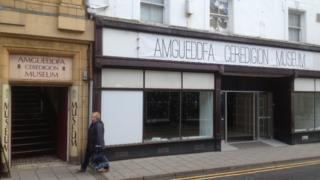 A £3m plan to redevelop an Aberystwyth museum to include the town's tourist information centre (TIC) has been given the green light by Ceredigion council's cabinet.
The project aims to extend Ceredigion Museum in the town centre to include an empty shop based next door to the restored Edwardian theatre.
The council will apply for lottery funding for the three-stage programme.
It will raise £200,000 to fund the bid by selling the TIC's current home.
That building is adjacent to the Grade II-listed museum and the empty shop.
The cabinet was told the project is eligible for Heritage Lottery Funding but the process would take at least two years for the first two stages if the funding bids are successful.
Dampness
If the council, which owns the three buildings, does decide to extend the museum it could lose out on up to £35,000 a year of rental income from the shop.
A report by the council's head of economic and community development services, Allan Lewis, said that savings could be made through "restructuring staffing and services" within the museum and the TIC.
At present 10 full and part-time staff work at the museum and nine full, part-time and seasonal staff are employed at the TIC.
The report added that some of the museum's rooms had been affected by dampness and that £90,000 needs to be spent to replace the facility's lift.
A Ceredigion spokesman said: "The council will be in a position to consider any possible changes to future staffing requirements once the outcome of these bids to the Heritage Lottery Fund is known."
The museum was established in 1972 and taken over by Ceredigion council in 1996.