New Quay telescope to help track Cardigan Bay dolphins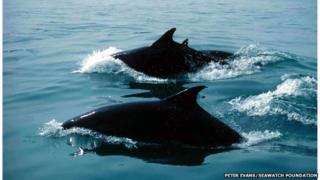 A state-of-the-art telescope to monitor Cardigan Bay's dolphin population has been set up by a conservation charity.
New Quay-based Sea Watch Foundation has installed a 'digiscope' on the town's pier to record bottlenose dolphin numbers in the bay.
Its Pierwatch project will enable volunteers to track the 300 recorded animals living off the Welsh coast.
The new £3,000 telescope, when attached to a camera, will allow high-quality images of dolphins to be taken.
Sea Watch Foundation sightings officer, Kathy James, said: "Dolphin fins are much the same as human fingerprints in identifying individuals.
Breeding ground
"We can identify them from nicks and notches built up on the fins over time due to interactions with other dolphins.
"We usually monitor the dolphins on boats but the digiscope will give us the option of tracking the dolphins from shore when the weather is bad as well as saving on costs."
Ms James added that the main aim of the project is to increase the interest of the public who visit the pier.
The waters along the 60-mile (100km) stretch of mid Wales coastline have provided the perfect breeding ground for Europe's largest population of bottle nosed dolphins.
It means the mammals, which can live to 30 years, can remain in the bay permanently.
"The bay has shallow waters and plenty of food which provides a protective environment for dolphins to rear their calves," said Ms James.
She added that photographs from the digiscope would be posted online as part of a regular blog on the foundation's website.