Women in burial and fraud case must repay £90,000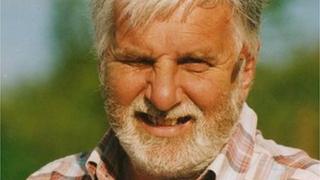 Two women who were jailed after burying a man in a garden and claiming his benefits have been ordered to repay almost £90,000 under the Proceeds of Crime Act.
Geoffrey Sturdey, of Beth Berith, Tregaron, disappeared in 2008.
His wife Rebekah Sturdey, 56, and Boqer-ore Adie, 43, admitted the burial in Ceredigion and claiming about £135,000 in benefits.
The order was made at Swansea Crown Court.
Judge Paul Thomas ordered Sturdey to repay £40,162 after hearing she had realisable assets worth £47,770. Adie was told to repay £46,116 out of assets worth £70,850.
Chris James, representing Sturdey, said her assets included the land but its value might be affected by the fact that her late husband was still buried there.
Old Testament
He said the burial was now lawful as the relevant authorities had granted permission.
The court heard both women had completed their sentences because they had previously spent time in custody.
A third woman Karmel Adie, 25, admitted the burial charge and was given a suspended prison sentence.
Mr Rees said that all four lived as an obscure religious sect at Beth Berith, studying the Old Testament.
Police and DWP investigators questioned Mrs Sturdey in January 2013, and she maintained he was touring Europe with an unknown man, said Mr Rees.
But, according to notes written by Boqer-ore Adie it appeared he had died from natural causes on 5 October, 2008.
Police discovered he did not have a passport and began a search that would cost £20,000.
On June 18, 2013 officers using specialist equipment found his body under a concrete floor inside a plastic tunnel at the smallholding.
Mr Rees said it appeared Mr Sturdey has been buried at a location and in a manner of his choosing and that all concerned had expected Jesus to return to earth seven days later to collect his spirit.
He said police searched the smallholding and found £6,115 in cash in four locations.
After their arrest, shortly before the body was discovered, all three women maintained he was in Europe and did not want to be traced.
After the burial was found, they refused to answer any further questions.