Dylan Thomas notebooks arrive in Wales from US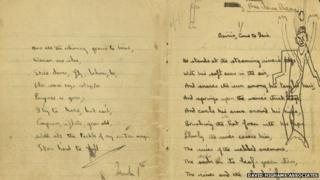 Rare notebooks and manuscripts belonging to poet Dylan Thomas have arrived at the National Library of Wales on loan from the United States.
The documents will form part of an exhibition marking the centenary of Swansea-born Thomas's birth.
They are on loan from the University at Buffalo libraries poetry collection, part of the State University of New York.
Thomas died during a trip to New York in November 1953.
The notebooks and manuscripts were personally escorted by a courier to the National Library in Aberystwyth on their journey across the Atlantic.
Jigsaw
They include four poetry notebooks written between 1930 and 1934 and his red prose notebook from that time.
The loan also includes a list of rhyming words, a self-portrait Thomas had doodled on a letter to the novelist and playwright Pamela Hansford Johnson, and a crossword on the back of a carbon copy of his poem Fern Hill.
The items shed light on his writing process and also his playful side, says the National Library.
They are accompanied by a series of black and white photographs of Thomas, many of which have not been widely displayed or reproduced before.
Some date from the late 1930s when he was newly married, while others were taken in New York in the early 1950s.
Library chief executive Aled Gruffydd Jones said: "We are thrilled that we have been able to welcome these items back to Wales for the centenary celebrations.
"The library is proud to be the major repository and research centre for Dylan Thomas material and this loan is the final piece of the jigsaw in giving visitors an insight into Dylan's early life and writing processes."
"This collection draws scholars and fans from around the world who drive hundreds of miles to stand in the presence of this material. Dylan has this kind of aura," said Michael Basinski, curator of the poetry collection at the University at Buffalo.
Two exhibitions about Thomas's life are being staged for his centenary - at the Dylan Thomas Centre in Swansea from 31 May and at the National Library from 28 June.
Nick Bradley, Swansea council's cabinet member for regeneration, said: "It's excellent news that we're able to work in such close partnership with the National Library of Wales to bring artefacts of such historic and cultural value back to Wales and, of course, to Swansea, Dylan's birthplace."