Glandyfi to Furnace pavement protest takes to the road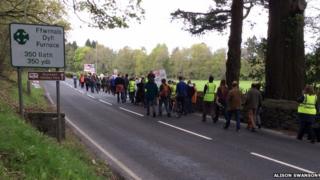 Residents of three mid Wales villages have held a protest march as part of a campaign for a pavement to connect the communities.
Organisers say as many as 70 villagers from Glandyfi, Eglwysfach and Furnace joined in the march on Saturday.
They claim their call for a mile-long pavement along the A487 between Aberystwyth and Machynlleth has been ignored by the Welsh government.
The Welsh government has said it is preparing designs for the work.
Villagers have campaigned for the last 25 years for safe pathways to connect the communities.
Among those taking part in the protest were the Ceredigion MP, Mark Williams, and county council leader and local councillor, Ellen ap Gwynn,.
Road-widening
Alison Swanson, vice-chairman of Ysgubor-y-Coed community council, which represents the three communities, said the road was a "death trap" for pedestrians.
She added that the £10m Welsh government road-widening project to the north of Glandyfi was anticipated to include pavements between Glandyfi, Eglwysfach and Furnace to the south.
"This has not happened and we have asked the minister several times why this project has not taken place.
"Ellen ap Gwynn is due to raise the matter with Transport Minister Edwina Hart during a general meeting on Monday."
A Welsh Government spokesperson has previously said: "We are currently preparing the designs on the preferred option for this work, and will announce details of the next stage when these are published."