Monmouthshire and Brecon Canal reopens after £1m repair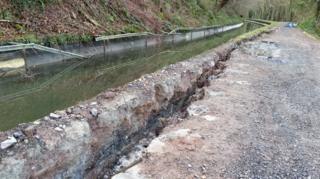 The Monmouthshire and Brecon Canal is to fully reopen to boaters this weekend after £1m repairs to a section damaged in the winter storms.
A 400ft (125m) stretch of the 200-year-old embankment between Govilon and Llanfoist was shut in February after it collapsed due to torrential rain.
It is to reopen on Friday, with a diversion for walkers and cyclists while towpath repairs continue.
The 35-mile (55 km) long canal runs through the Brecon Beacons.
Glandwr Cymru, the Canal & River Trust in Wales, said the repaired embankment had "slipped" after becoming so saturated with rain over the winter that it slumped down the hillside.
The repairs include using 500 32ft (10m) long pins to "nail" the embankment to bedrock.
The last of the pins have still to go in, along with a securing mesh and new planting along the embankment to replace trees that were cut down to allow engineers access.
It is hoped the towpath will reopen at the end of May.
Glandwr Cymru operations director Vince Moran said: "We saw unprecedented rainfall over the winter and it has required a major engineering project to repair the canal, with 500 pins effectively nailing the embankment back against the bedrock.
"We are pleased with how the work has gone and delighted that so many people have continued to visit the canal over the past two months."
The trust said the supports 390 jobs and contributes £17m to the Welsh economy each year.