Hay-on-Wye historic building reopens after restoration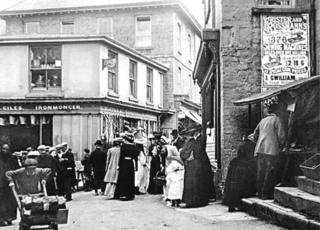 A historic building in Hay-on-Wye has reopened after 30 years of disrepair.
Known as the Cheese Market, the town hall was built in 1835 on the site of a pre-17th Century guildhall, and in the 19th Century was used as a court, a theatre, a Masonic hall and a church.
The restoration project began in 2008, when the threat of a private sale inspired a group of volunteers to step in.
From the end of April, the building will once again host market traders.
Nearly £300,000 of the money needed for the project came from the Heritage Lottery Fund and a further £35,000 was raised by the community, Powys council and The Georgian Group.
Manager of the project Clare Purcell said: "The restoration of Hay Cheese Market has been a wonderful opportunity for the community to take some time to learn about our local heritage.
"We have undertaken a great range of projects, one of which - an illustrated potted history of the building which uses many fantastic archive photographs - will be on permanent display in the market hall."