Hay Festival 'lucky' to name Carrie Fisher among stars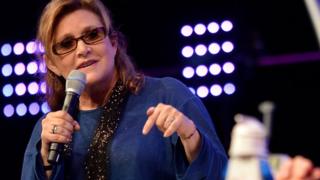 Organisers of the Hay Literary Festival say they are "incredibly lucky" to welcome big names such as Star Wars actress Carrie Fisher as part of the line-up for this year's event.
Best known for her role as Princess Leia, Fisher will also be talking about her more recent work as a screenwriter.
Dame Judi Dench, Stephen Fry and Jennifer Saunders are other names going to the Powys festival next month.
The World War One and Dylan Thomas centenaries will also be reflected.
The full line-up includes literary heavyweights such as Ian McEwan, Toni Morrison, Siri Hustvedt, Lorrie Moore and Robert Harris.
The world of science is represented by figures such as Richard Dawkins, Marcus Du Sautoy and geneticist Steve Jones.
Former Bank of England governor Mervyn King will join a panel including Lord Justice Sir Brian Leveson and Baroness (Helena) Kennedy QC examining Britain's institutions and history.
Journalist Glenn Greenwald will discuss his role in revealing secret US documents leaked by former CIA contractor Edward Snowden, while designer Katherine Hamnett discusses the idea of sustainable fashion.
Director Peter Florence said an important element of the 2014 festival was a commemoration of World War One, with fresh insights from historians and writers such as Niall Ferguson, Margaret Macmillan, Max Hastings, Jeremy Paxman and Kate Adie.
"The anniversaries of both world wars and Shakespeare make you look hard at what's made Britain the way it is, and how we relate to the world - the alliances, pluralities and opportunities," he said.
"We'll be looking at the politics of the time and the diplomatic failures - with their frightening geopolitical echoes today."
Dylan Thomas's centenary will be marked by talks from poet Owen Sheers, screenwriter Andrew Davies and actor Tom Hollander on their film about Thomas's time in New York, and a visit by the replica of his writing shed in Laugharne which has been on tour.
Mr Florence said he was also excited by the prospect of working with the BBC, after director-general Tony Hall promised coverage of Hay as part of a boost to arts programming.
"It's an extraordinary opportunity to massively extend the reach of the festival on several media platforms," said Mr Florence.
The 27th Hay Festival will run from 22 May to 1 June.