Hywel Dda watchdog warning over patient divert system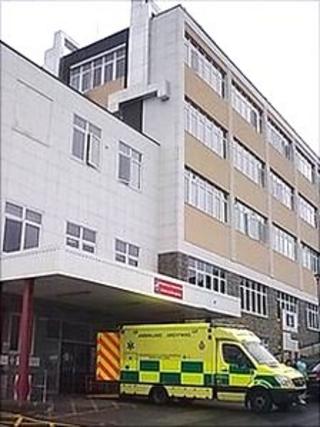 A health watchdog has warned that lives are being put at risk by a poor system to divert ambulances between hospitals.
It comes after a seriously-ill patient was taken 50 miles (80km) from Pembrokeshire to Aberystwyth.
Paramedics were told closer hospitals had no room although its claimed it later emerged that Withybush in Haverfordwest had space.
Hywel Dda health board and the ambulance service have both defended the decision to divert the patient.
Hywel Dda Community Health Council chairman Paul Hinge has called on the Hywel Dda University Health Board and the Welsh Ambulance Service to review the system of informing ambulance teams on availability at hospital accident and emergency (A&E) departments.
"The elderly patient survived thanks to the excellent work of paramedics and staff at Bronglais Hospital but it could have been a very different outcome," said Mr Hinge.
"The journey from south of Newport in Pembrokeshire to Aberystwyth took more than two hours which is well beyond the golden hour."
Mr Hinge said the problem was caused when paramedics were told that A&E departments at the nearer hospitals were full.
He added: "Sources close to the health board have told me the information the paramedics were given was more than two hours out of date and it transpired there was room at Withybush Hospital.
"The health board and the Welsh Ambulance Service need to look at making its communication with paramedics more up to date so that it is updated at least once every hour.
'Extremely busy'
"The service in this rural area needs to be improved and stop lives being put at risk."
A health board spokesperson said Withybush Hospital was "extremely busy" when the incident occurred on 21 February, and the ambulance service was acting on the most "up to date position which was patients should be taken to the next nearest hospital".
"A number of factors can affect a decision to enforce a divert such as emergency attendances, bed availability and staffing levels," added the spokesperson.
Rob Jeffery, ambulance service head for Hywel Dda University Health Board area, said the decision to divert the patient was "taken responsibly and in the best interests of the patient based on the information available to crews at the time from the local health board".
He added: "Hospital diverts help provide a better balance in the workloads at hospitals, and ensure that the best and most responsive care is provided to all patients."