Dutch master found in Welsh cottage fetches £60,000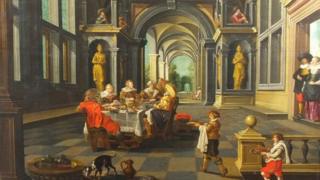 An oil painting by a Dutch master discovered in a mid Wales country cottage has fetched £60,000 at auction.
'Dives and Lazarus' by artist Dirck van Delen went under the hammer in Shrewsbury, Shropshire, on Wednesday.
It is believed the painting has been hanging on a wall in the cottage near Welshpool for several decades.
It was spotted by the head of art at Shrewsbury-based auctioneers Halls, who helped get the painting verified.
The painting had been bought by the seller's father from London art dealers in the 1930s and for many years hung at a family property in Gloucestershire before being moved to adorn the cottage near Welshpool.
Dated to the 1620s and measuring 2ft by 2.4ft (61cm by 73cm), the painting shows figures banqueting at a dining table with musicians, figures and a beggar nearby.
It is believed to depict the parable of Dives and Lazarus.
Other artists to feature prominently at the auction included leading British impressionist painter Mark Senior (1862-1927), whose three works sold for a combined total of £46,800.
'Blue Sky and Summer, Runswick' sold for £29,500, 'Spring, Ellerby' made £11,000 and 'Willows Autumn' made £6,300.