High Court injunction stops Powys village green hearing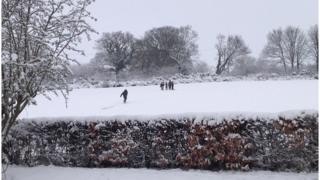 A bid to turn eight-acres of fields in Brecon into a village green has been stopped in its tracks.
The landowner halted the attempt to dedicate the land to public use, with a High Court injunction over a potential conflict of interest.
Locals hope to prove the plot has been used by people for more than 20 years for activities such as dog-walking and picnicking.
They will now have to wait for an independent review to take place.
Residents claim Cae Prior Fields in Brecon has long been used by the community.
But recently the land was included in Brecon Beacons National Park's Local Development Plan (LDP) - marking it as a site for redevelopment worth "several hundred thousand pounds".
'Conflict of interest'
In a bid to stop the land being built on, locals launched an application to register the fields as a village green. The application was lodged by Powys council's deputy chairman Paul Ashton.
But the two-day hearing due to start on Wednesday was stopped after landowner Adelaide Fellowes complained of a possible conflict of interest, as the decision would be taken by a panel of 21 county councillors - Mr Ashton's collegues.
Mr Ashton, who is the ward councillor, said he made the application because he lived near the fields and had used them himself for the last 30 years.
He said: "The problem has arisen because although I applied for village green status as a local resident and not as a councillor, it is Powys council who decide the application.
"I realise there is a conflict of interest but I have followed the code of conduct."
A judicial review will now determine who should adjudicate the application that the land become a village green.
Edward Harris, who represents the landowner, Adelaide Fellowes, said he wants an independent inspector to consider the application rather than Powys council.
"The council has made a dog's breakfast of the situation by deciding to plough ahead without thinking of the consequences," said Mr Harris.
"The land could be worth several hundred thousands of pounds if it is developed but would be worth much less if it is registered as a village green."
A Powys council spokesman confirmed the local authority could not hold the hearing until after the Judicial Review.
A full hearing will be held in Cardiff by the end of June.