Ospreys Monty and Glesni return to Cors Dyfi reserve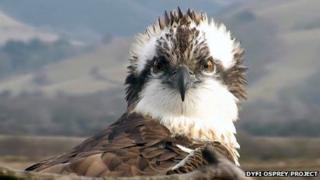 An osprey who became popular with BBC Springwatch viewers in 2012 and his partner are back in mid Wales after wintering in Africa.
Monty and Glesni returned within two days of each other to their nesting ground near Machynlleth.
Monty has returned to breed at the Montgomeryshire Wildlife Trust site at Cors Dyfi every year since 2011.
His previous partner, Nora, failed to return from Africa last spring.
But Monty bred two chicks, Cerist and Clarach, with his new partner Glesni in 2013.
Monty returned to his perch at the Dyfi Osprey Project on Tuesday afternoon and was followed by Glesni, who arrived at 06:40 BST on Thursday.
Smashed camera
They are one of only two known breeding pairs of ospreys in Wales. A pair has also bred in the Glaslyn Valley, near Porthmadog, since 2004.
Alwyn Ifans from the Dyfi Osprey Project said: "Glesni has arrived nearly three weeks earlier than last year.
"Ospreys usually return to the same site but because it was Glesni's first year at Cors Dyfi last year it was difficult to know what she would do.
"After she arrived this morning she chased another bird away, who happens to be Glesni's cousin.
"There was quite a bit of harrying above the nest but it looks like Glesni has won the day."
A perch used by the pair has been rebuilt after being brought down by 100mph winds in February.
Live streaming
And money to pay for a £3,500 camera smashed when the ash tree came down during storms has been raised after a Facebook appeal.
The new larch tree is now in place to let Monty and Glesni have a perch overlooking their nest, which is on a nearby telegraph pole.
A camera on the perch lets visitors watch live streaming of the nest on the Montgomeryshire Wildlife Trust website.
In 2013, more than 1.7 million unique visitors logged on to watch the Dyfi ospreys.
A £1.4m project to build a wildlife observatory at the reserve, which attracted 31,000 visitors in 2013, will open soon.
The first osprey chick in the Dyfi valley for 400 years hatched in 2011.