Pilot plan hatched to combat Ceredigion 'enviro-crime'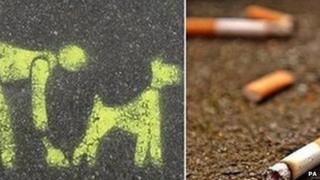 A team of "enviro-crime" busters could be called in to tackle litterbugs, fly-tippers and dog fouling in Ceredigion.
A county council task group wants to run a month-long pilot project using specialists from either the public or private sector.
The group has rejected an idea to use the county's traffic wardens to take on the role of issuing Fixed Penalty Notices for environmental offences.
The move comes amid concerns about rubbish thrown from cars in the county.
Enviro-crime included littering, dog fouling, fly tipping domestic and trade refuse issues and graffiti.
A council scrutiny committee has decided ask the council's cabinet to consider a pilot scheme in Ceredigion "with qualified officers from an authority in Wales or from a private company that specialised in enviro-crime".
A plan to use members of the council's 11-strong traffic services team which includes nine traffic wardens was rejected because of cost and resource implications.
Peter Davies, chair of the thriving communities overview and scrutiny committee, said: " Personally I would like to see traffic wardens given the right to penalise people who litter our streets and let their dogs foul on pavements.
"But council officers believe that would involve too much work."