Aberporth-based airport secures £2.5m defence contract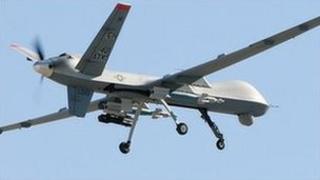 A Ceredigion-based airport has secured a £2.5m Ministry of Defence (MoD) contract to continue testing unmanned aircraft systems (UAS).
It means that West Wales Airport will continue to supply its airfield services and facilities to the MoD for the next two years.
The airfield's owner said the contract would safeguard the 100 jobs at the Aberporth site.
It has been the base for unmanned aircraft operations since 2004.
The MoD has been using the airport to develop the Watchkeeper UAS with defence contractor the Thales Group.
Although Watchkeeper is unarmed, it is used as an intelligence, surveillance, target acquisition and reconnaissance (Istar) system by the British Army.
In September 2013 the airport went into partnership with Newquay Cornwall airport to create the National Aeronautical Centre (NAC) to deliver large scale specialised services in segregated airspace to both the military and civilian sector.
The same month it was also the site of a protest by more than 100 peace campaigners who demonstrated against the development of "drones" at the site.
Ray Mann, Managing Director of West Wales Airport and architect of the NAC, said: "The investment that has been made at West Wales Airport over the years is now beginning to pay dividends not only to the airport and its UAS customers but also to the local community."