Mobile phone salesman Lee Hawkes copied nude photos of women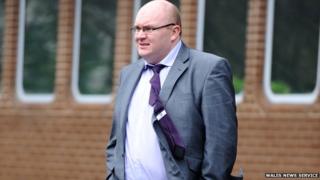 A mobile phone salesman copied nude photos of women customers from their phones to his computer, a court heard.
Sales manager Lee Hawkes, of Swansea, downloaded dozens of images of two women who took their mobile phones for repairs at his shop in Brecon, Powys.
Police seized phones, USB devices and computers before charging Hawkes.
He received a suspended prison sentence after admitting unauthorised access of data and an offence of voyeurism at Merthyr Crown Court.
Hawkes had admitted the charges at a hearing on 17 March and was sentenced on Monday.
Merthyr Tydfil Crown Court heard that police raided Hawkes's shop and found 48 images of a woman in her 20s and a further 135 sexually explicit images of a woman in her 30s.
Rachel Knight, prosecuting, said: "Hawkes persuaded the first woman to invest in a new phone.
"She was concerned about losing personal information on it and he offered to assist her. Staff at the shop were allowed to transfer contact numbers but nothing more than that.
"When she left her old phone Hawkes saw it contained very personal, naked and explicit pictures of her.
"He put the images into his own phone before transferring them on to his computer."
The court heard Hawkes was helping the woman customer in her 30s with her phone when explicit images sent to her by a man popped on to the screen.
Ms Knight said: "She trusted Hawkes but he put the images onto a memory stick before transferring them to his computers."
The court heard a colleague at the Get Connected shop in Brecon was "gobsmacked" when Hawkes showed him the images and said it happened "industry-wide" and was "normal behaviour."
'Absolutely ashamed'
Police were brought in after a complaint by staff at the shop.
The court heard Hawkes was initially re-employed by the company in a different role but had since lost his job.
Lucy Crowther, defending, said: "He is absolutely ashamed of his behaviour and is genuinely remorseful.
"He was overwhelmed by the consequences that followed."
Hawkes was jailed for three months after admitting two counts of unauthorised access of data and for four months for an offence of voyeurism, suspended for 12 months. He will also be placed on the sex offenders' register.
After the court hearing, PC Gareth Tanswell, who investigated the case, said: "This was an unusual investigation and the victims in this case were our priority from the outset.
"People's mobiles carry a vast amount of personal data and images these days, and they expect to be able to trust those that they give access to them for repair, maintenance or advice purposes.
"It must be emphasised that these were the actions of one individual and this is a very unusual case but if anyone has any concerns or suspects that someone has accessed and used their data, images etc without their consent they should contact police who will investigate thoroughly."