Pantycelyn: Aberystwyth students win fight to save halls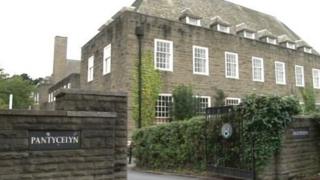 Student campaigners have won their fight to save a halls of residence which was threatened with closure.
Welsh-medium Pantycelyn at Aberystwyth University is to be converted into a centre for Welsh speakers and learners.
The university is spending £45m building accommodation at nearby Penglais Farm and there were concerns Pantycelyn could be redeveloped.
But the university said it had now reached an agreement with students over its future.
More than 30 students had threatened to go on hunger strike if discussions over the future of the halls had broken down.
But Aberystwyth University said on Friday the historic building would now be converted into a Welsh language and cultural centre.
Business plan
"Aberystwyth University welcomes the agreement reached today with UMCA - Undeb Myfyrwyr Cymraeg Aberystwyth - the Aberystwyth Welsh-speaking students' union - to work together on the development of a business plan for the future use of Pantycelyn as a Welsh language and cultural centre," said a university spokesman.
"This will include providing detailed options for the continuation of Pantycelyn as catered accommodation for students that are Welsh speakers and Welsh learners.
"In response to these concerns, the university has developed the proposal that will see the university work closely with UMCA on the business plan.
"The university's hope is that the new Welsh language and cultural centre will act as a hub for our entire Welsh-speaking community, including students, staff as well as the wider community."
The spokesman said Aberystwyth University was "firmly committed" to attracting Welsh-speaking students and to promoting access to expanding Welsh-medium provision.
UMCA president Mared Ifan welcomed the university's decision.
"Thanks to UMCA members for their hard work, and to all our supporters," she said.
"This is a massive achievement after all the work that went into the campaign."
Pantycelyn has been traditionally where Welsh-speaking students stay at Aberystwyth University, and where Prince Charles spent a term as a student in 1969.